Authors and Speakers Logan Wolfram (LoLo) and Sarah Mae (MaeMae) became internet friends when it was still weird to say so out loud. Over the years that friendship has turned epic and real-life and in this podcast they'll dish about all the things: life, faith, family, parenting, food, dreams, and all the ridiculous things in between that make friendships for real. It's random, sometimes serious but mostly fun, and it's short enough to occupy you in the carline!
Episodes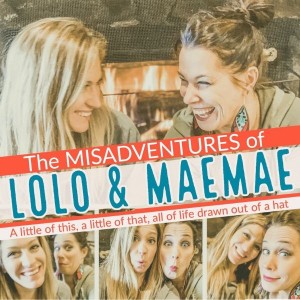 Wednesday Sep 11, 2019
Wednesday Sep 11, 2019
Just 15 minutes of laughter can burn up to 40 calories, so friend, eat that cookie while you listen today and know we are here for your carline calorie burn!
Episode 3: I Will CUT You (and Other Shaving Woes) – Season 1, Episode 3
Join LoLo and MaeMae in this ridiculously fun episode as they share some hilarious secrets and discoveries. Entertain yourself in the carline today with this smorgasbord of random things you didn't even know you were missing out on until now.
When you're done listening make sure you check out : 
We have an email address and we'd love to add your topic ideas to our hat! Email us at LoLoandMaeMae@gmail.com
Also make sure you're following us on all the socials and subscribe to the Podcast on iTunes, Stitcher, or Podbean so you never miss an episode!
Pop over to say hello and send us your ideas as well!
Find LoLo at LoganWolfram.com, or @LoganLWolfram on Facebook and Instagram, and MaeMae is at SarahMae.com, is @SarahMaeWrites on Instagram, and Facebook. We can't wait to hear from you!