Authors and Speakers Logan Wolfram (LoLo) and Sarah Mae (MaeMae) became internet friends when it was still weird to say so out loud. Over the years that friendship has turned epic and real-life and in this podcast they'll dish about all the things: life, faith, family, parenting, food, dreams, and all the ridiculous things in between that make friendships for real. It's random, sometimes serious but mostly fun, and it's short enough to occupy you in the carline!
Episodes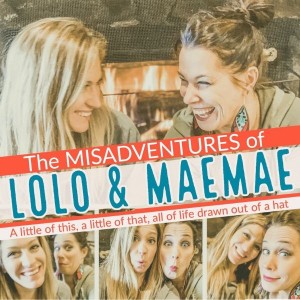 Wednesday Oct 09, 2019
Wednesday Oct 09, 2019
Lo and Mae hilariously reminisce in this episode about LoLo's first visit to see MaeMae in Pennsylvania and her subsequent dashed perceptions of Amish Country. It didn't go as she had planned in her mind, and as you'll see, she still bears the trauma of the realization that things aren't always as they seem. The girls also share some favorite musical choices (as well as a killer LoLo & MaeMae Spotify playlist made just for you) and laugh about a bunch of other random things as always!
And in case you never wondered before, the girls have some additional useless information for you like:
How to make your toenails look more marvelous than normal
If you've ever wanted your own set of Joanna Gaines style barn doors, Mae's husband @jhcraftsman on IG can make them for you!
How sometimes the best way to maintain a friendship is to say goodbye
Why whoopie pies will always make the girls a little nervous
Some of Lo's favorite bands – Mandolin Orange, The Civil Wars
And a super fun music festival Lo goes to annually called Merlefest (you should come and we can all hang out!) 
Don't forget that we have an email address and we'd love to add your topic ideas to our hat! Email us at LoLoandMaeMae@gmail.com!
Also make sure you're following us on all the socials and subscribe to the Podcast on iTunes, Stitcher, or Podbean so you never miss an episode!
Pop over to say hello and leave us a review!
Find LoLo at LoganWolfram.com, or @LoganLWolfram on Facebook and Instagram, and MaeMae is at SarahMae.com, is @SarahMaeWrites on Instagram, and Facebook. We can't wait to hear from you!