Authors and Speakers Logan Wolfram (LoLo) and Sarah Mae (MaeMae) became internet friends when it was still weird to say so out loud. Over the years that friendship has turned epic and real-life and in this podcast they'll dish about all the things: life, faith, family, parenting, food, dreams, and all the ridiculous things in between that make friendships for real. It's random, sometimes serious but mostly fun, and it's short enough to occupy you in the carline!
Episodes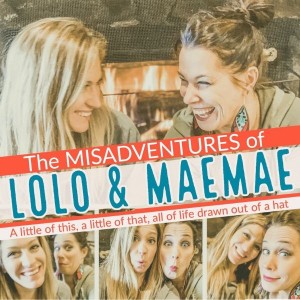 Wednesday Oct 02, 2019
Wednesday Oct 02, 2019
Episode 5: Did you take your meds? (Also, clean your friends' kitchen)– Season 1, Episode 5
In this episode LoLo tries her very hardest to put MaeMae into a good mood. Mae wants to stay in bed all day, but Lo forces her to podcast regardless of her feelings! Leave it to LoLo (and some meds) to drag Mae out of a bad mood and into the fun zone! But for real, today the girls tackle some legit real things like depression, anxiety, and obviously also golden temporary tattoos.
Things you need to know this week and beyond :
Where you can snag LoLo's favorite golden temporary tattoos - HERE
Some ways to crawl into the trenches with friends suffering from anxiety and depression so they don't get lonesome fighting battles on their own
You NEED MaeMae's new book – The Complicated Heart – like for real, you'll read it in a day. It is sooo good.
One of the weirdest Amazon products ever – (that LoLo's husband actually wanted to buy and the HILARIOUS reviews that has the girls in hysterics)

Send us your hilarious products and you'll be entered to win signed copies of each of our books!

It's hard to find LoLo's book anymore – long story that you can hear more about on Mae's other podcast, The Complicated Heart, HERE, but if you are interested in snagging it, try Amazon or listen to Lo read it for free on Audible.
The best kitchen cleaning advice from the FlyLady!
An easy and delish recipe for Taco Soup:

You need: 2 lbs ground beef (or turkey), 2 med onions, 3 cans diced tomatoes, 2 cans rotele tomatoes, 2 cans white corn, 1 can pinto beans, 2 cans black beans, 1 can light kidney beans, 2 pkgs taco seasoning, 2 pkgs dry ranch seasoning
Brown meat and onions, dump all the cans and seasonings into the pot and bring up to a simmer. Let simmer (stirring and scraping the bottom so it doesn't burn) for 3-4 hours. Serve topped with fritos, sour cream, and cheese. YOU ARE WELCOME!
Don't forget that we have an email address and we'd love to add your topic ideas to our hat! Email us at LoLoandMaeMae@gmail.com!
Also make sure you're following us on all the socials and subscribe to the Podcast on iTunes, Stitcher, or Podbean so you never miss an episode!
Pop over to say hello and leave us a review!
Find LoLo at LoganWolfram.com, or @LoganLWolfram on Facebook and Instagram, and MaeMae is at SarahMae.com, is @SarahMaeWrites on Instagram, and Facebook. We can't wait to hear from you!